The company undertook the construction of the Gateway Primary School Hall. The newly completed school hall was officially opened on 6 June 2012. Nico and Renske Louw of Renico Construction, along with many of their loyal contractors and suppliers, attended the memorable function and it was with great pride and sincere gratitude that Mrs Kempen and her Management team officially proclaimed the Renico School Hall open.
Renico also undertook the building of the Gateway Home for the Elderly at a heavily discounted rate, again motivating many of their loyal suppliers and sub-contractors to donate, or discount considerably, the materials and labour required for the project, as they did with the construction of the Hall. The Home was officially handed over to the Gateway Village on 1 July 2014. The handover was reported in an article that appeared in the Roodepoort Northside Chronicle. Read More
The Gateway School is a leading school for learners with special educational needs, and many of these learners continue to receive assistance from the Gateway Society for their entire lives.
In July 2015 Renico Construction, with material assistance from it's loyal suppliers, undertook the construction of a shelter and stands for the assembly area at the Matla Combined School in Kromdraai. Read More
In June 2018 the company undertook Field Maintenance on the sports fields in the Zandspruit Informal Settlement for the community Sports Day organised by the Impophomo organisation. Read More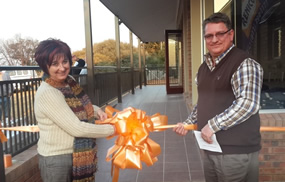 Official Opening of Gateway Home for the Elderly
Gateway Home for the Elderly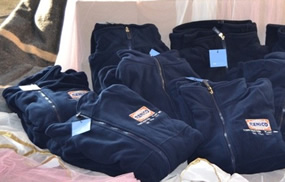 Winter Warmth Gifts